MOUNTRAX Foot Massager – Your new luxurious spa at home
By - Mountrax Editor
22 October, 2022
The ultimate benefits of massage can never be denied. We all know how relaxing is massage therapy when you are tired from head to toe. Well, if you have a heavy work schedule you would definitely be craving the comfort it brings.
However, people nowadays have associated massage with luxuries. Many spas and salons are charging hefty amounts for a few-minute massage. Well, the bills are likely to bring all the stress that you've just released during your massage session. Many people also wait for months to get a massage just because of the high rental services.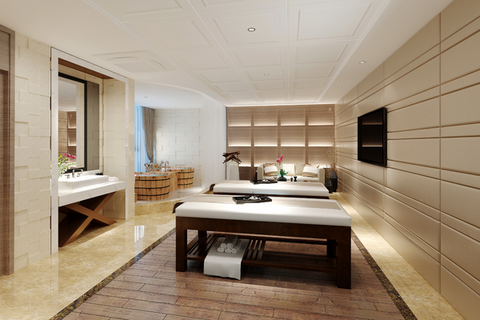 Also, if you are a working individual, it is often difficult to take out time from your busy schedule to make it to the salon and get a massage. So, what should be done?
Well, how about if we bring you all the benefits within the comfort of your home? Yes, it's time to say goodbye to those expensive salons and get a luxurious massage at home ANYTIME with a MOUNTRAX Foot Massager.
This article will give you all the right reasons to buy this magical product. So, keep reading!
How is massage at home better?
With every passing day, salons are becoming unreachable for the middle-class population. Their service charges are so high that an individual with a middle income would think twice before going. First of all, you would have to manage to go to the salon during your busy schedule. It costs both time and money. Secondly, spas use expensive massage equipment and have professionally trained staff, thus, their charges go high. Then their massage sessions are usually long which is very time-consuming and sometimes may clash with your other commitments.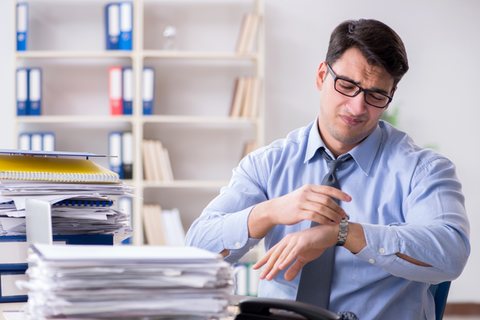 That is when all you need is a comfortable home massage!
You can have your massage session in the comfort of your home without having to spend a lot of money. You may not have the professional staff at your service but our MOUNTRAX Foot Massager Machine can easily make up for that. How? Let's find out.
The Benefits of MOUNTRAX Foot Massager      
This massager machine works great if you want to enjoy a professional shiatsu massage. It comes with two individual rolling heads  along with several ergonomic small massage nodes and covers most of the areas of your foot for effective stress relief. It provides full coverage of compressed air so that you can experience deep squeezing.
If you have plantar fasciitis, this is the perfect option for you!
You can adjust the intensity of kneading and air compression as per your preference. We would recommend you start from the low intensity and then increase it if needed. The deep kneading massage by MOUNTRAX Massager is likely to reduce the stiffness of your muscles and relax the tissues for a comfortable feel.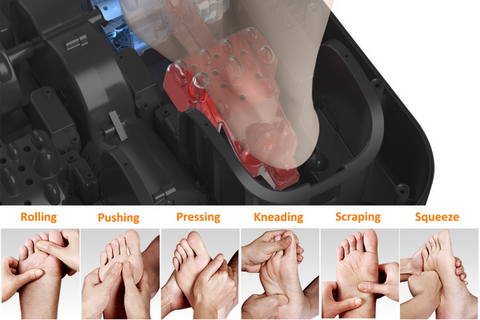 The massager also comes with an optional heating function. It can keep you warm while enjoying a foot massage and also increases the circulation of blood in the respective area. The heating option is usually very soothing in cold weather but you can of course use it anytime you want. Maybe there is time when you want nothing but warming your feet, and here is the good news: the heating function can be used alone without the massage!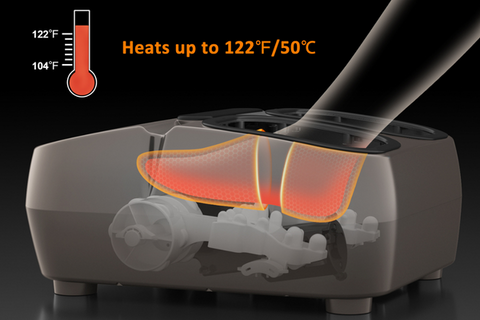 You can also have a get-together where all your guests can bring their MOUNTRAX Massagers and you guys can have a hot cup of coffee while enjoying the warm, comforting massage and spilling beans about your day!
For a safe and genuine purchase, we would recommend you shop from MOUNTRAX Official Website  or  Amazon Flagship Store. Beware of the fraudsters and get the original product only!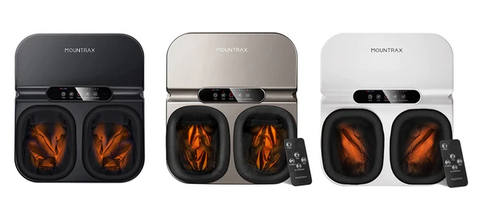 Know More of MOUNTRAX at: